Slope Run
Advertisement
About Slope Run
Sloperun.io is an online game site.
Slope Run is an exciting running game in which you have to control a ball rolling in the space tunnels, avoid falling into space and explore new planets.
Advertisement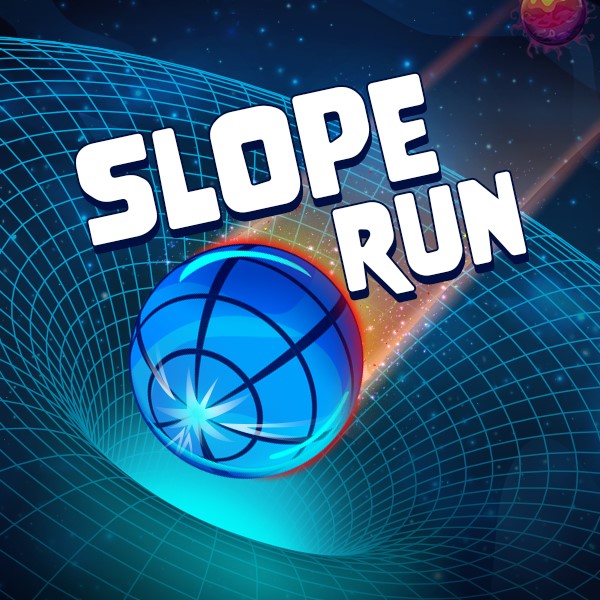 Use the arrow keys to control your ball. Press the up arrow key to jump and the left and right arrow keys to switch to platforms on either side respectively. It is easy to control. However, you will face difficulties and challenges with the game's platforms and space holes. There are countless platforms and space holes of different shapes and sizes. Jump from one platform to another platform and avoid falling into space pits. If you fall into infinite space, you must restart the previous running process. In particular, spatial holes appear continuously. Combine jumping and moving among platforms simultaneously to ensure that you don't fall into space. In addition, there are brown platforms that collapse as soon as you touch them. Jump off these fragile platforms immediately if you don't want to end the game.
Slope
About Slope
Slope is the main idea for creating attractive slope games. Slope run is inspired by the endless slopes of outer space and it is also a kind of slope game.
About Slope game
Slope game is not only well-known with enthusiasts of the online game but also with new players who are entering the endless game world for the first time. Why is this running game popular? The Slope game is not only addictive in its fast gameplay but also in the challenges it gives you. By coming to this game, you can experience exciting ball-related races. You will face a series of deadly red obstacles. Platforms are also extremely challenging to be able to overcome it. Conquering the best score in Slope is never easy. You will have the opportunity to test your control ability as well as quick reflexes.
Game Modes of Slope Run
This running game has two game modes: Infinite and Level mode. Each mode will bring you new and exciting experiences.
In Infinite Mode, you will participate in endless races. Transform into a ball to pass through a space tunnel with countless platforms. You can see the appearance of red platforms with an upward tilt angle. Avoid or jump over them if you don't want your ball to get stuck at these platforms. Besides, each time you enter this mode, you will have a chance at different race tracks. Try to run as far as possible and get the highest score. You can check your points on the top middle of the screen. Moreover, there is a leaderboard for the Infinite Mode. You can follow the top players of Today, 7 Days, 30 Days, and All Time. Can you put your name on this admirable recording board?
In Level Mode, your task is to jump over the platforms to reach the finish line and proceed to the next level. The further you run, the higher your level. In particular, in this mode, you can discover new planets with countless new branches. For a detailed exploration, open the Minimap at the bottom right corner of the screen to get a good idea of ​​the planets you're heading to. You will be able to discover a primary branch that traverses the planets. You will unlock a new branch to navigate to other planets when you reach a certain level. Each of these sub-branches has different themes that promise exciting adventures. For example, when you reach Level 16, you can open the Winter Branch with a frost theme and ice platforms or open the Dark Branch when you complete Level 28. Furthermore, these branches can also split into many other sub-branches.
The Slope Run game is a perfect combination of Slope Game and Run 3 with attractive gameplay and various modes. This game not only combines them but also upgrades with new features in difficulty and map. In particular, this new arcade game has significant characteristics of eye-catching graphics and great effects.
Features of Slope Run
Two game modes: Infinite and Level Mode
Vivid graphics and cool art animations
Easy to control but challenging to master
Check your position on the leaderboard
Thrilling tracks with countless platforms
Tips for playing Slope Run
Combine jumping and moving among platforms ability to overcome difficult areas
Keep your ball in the middle of platforms to avoid falling into space; it can be easy to react to any situation.
Practice and master the necessary skills, especially jumping skill
Navigate the direction of your ball carefully and calculate the distance among platforms to ensure that your ball can jump over this distance
How to control
Press the up arrow key to jump
Use the left and right arrow keys to move to the two sides